By Jo, Naturopath, Nutritionist and Wellness Consultant, co-owner of Franjos Kitchen
Did you know that some nutrients in your breastmilk are impacted by your current nutritional status whereas others are not?  Calcium, for example, is actually mobilised from bone during the early stages of breastfeeding, so in other words you can eat as much calcium-rich foods during breastfeeding but it will not change the level of calcium in your milk for your baby. This is a prime example of why key nutrients such as calcium should be taken pre-pregnancy and pre lactation in order to build up your stores.
Have a good read and think about the food lists that match the key nutrients. Are you consuming something from each group each day? Your naturopath will be able to assess your diet and lifestyle and will better be able to gauge if you are adequately meeting your nutritional needs and our babies via your milk. So, if you are thinking twice about some, go have a chat and maybe it is time for a boost with a quality supplement at a dose-specific for you.
KEY NUTRIENTS FOR YOU AND YOUR BABY THAT IS AFFECTED BY CURRENT MATERNAL STATUS
Make sure you are including these foods into your daily diet to help ensure your baby is getting enough via your breastmilk
IODINE
It is a fine balance for this nutrient. Small daily amounts should be adequate.
However, if there is a history of thyroid problems best to consult your practitioner.
FOODS RICH IN THESE NUTRIENTS
Sea vegetables including
Oysters
Sardines and other fish
Fortified products such as salt and bread
B12
Even more important should you be planning future pregnancies to mitigate the potential for infantile vitamin B12 deficiency
Vegans, vegetarians and those with malabsorption issues such as IBD and coeliac disease may be at greater risk of deficiency
FOODS RICH IN THESE NUTRIENTS
Almonds
Beef and Lamb
Oily fish
Organic eggs
Organic dairy
Brewers yeast
Organic organ meats
VITAMIN D
Studies have shown that mothers need to have a good level of Vitamin D to ensure infants are receiving their RDI through breastmilk.
Adequate Vitamin D is essential for preventing rickets. Also, studies have found that infant Vitamin D status inversely correlates with a respiratory infection and allergy development
FOODS RICH IN THESE NUTRIENTS
Sunlight and yes, without sunscreen – be sure to be careful, and not stay in the sun for long periods without sun protection.
Oily fish
Organic eggs,
Organic dairy
SELENIUM
Sufficient selenium levels are necessary to help reduce the risk of postpartum thyroid issues.
FOODS RICH IN THESE NUTRIENTS
Brazil nuts
Wholegrains
Cashews
Onion
Garlic
Broccoli
Fish and shellfish
Organic eggs
CHOLINE
Choline is super important for neurological development.
FOODS RICH IN THESE NUTRIENTS
Avocado
Organic eggs
Lecithin
Organic organ meats
Organic dairy
Nuts
Legumes
The above nutrients are those that most breastfeeding mothers find it hard to reach their needs. Other nutrients that are also very important and that are dependent on maternal status include, Vitamin A, Vitamin C, B2, B3 and B6.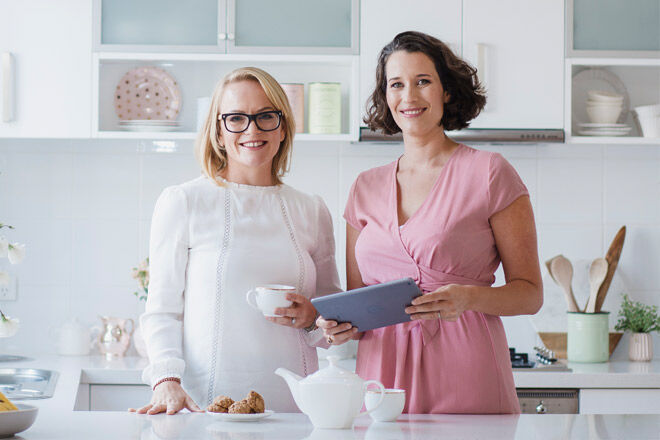 KEY NUTRIENTS NOT AFFECTED BY CURRENT MATERNAL STATUS
Make sure you are including these foods into your daily diet to help ensure your stores are adequate and you personally do not develop deficiencies and therefore may affect your own health as well as future pregnancies.
CALCIUM
Breastfeeding depletes bone mineral density in the first 3-6 months but it then goes on to ultimately strength bones. Thanks to hormonal changes, a period of compensatory mineralisation occurs during later months of breastfeeding and following weaning. Isn't the body amazing!!!!
Breastfeeding protects bone health and longer duration of breastfeeding is associated with reduce maternal osteoporotic fracture risk.
FOODS RICH IN THESE NUTRIENTS
Cruciferous vegetables
Tahini – sesame seeds
Almonds
Organic dairy
FOLATE– B9
If maternal folate stores are low due to inadequate dietary intake this may be to the detriment of future pregnancies.
FOODS RICH IN THESE NUTRIENTS
Almonds
Beef and Lamb
Oily fish
Leafy green vegetables
Avocado
Wholegrains
Strawberries
Nuts and seeds
IRON
Breastmilk iron levels will not alter when mum takes an iron supplement.
A healthy baby will be born with sufficient iron stores for the next 9 months of their life.
If mum's iron stores are low during to excessive loss of blood, underlying malabsorption, inadequate dietary consumption then supplementation is regularly given. The best form of iron to take is Iron bisglycinate.
FOODS RICH IN THESE NUTRIENTS
Black strap molasses
Organic organ meats
Green leafy vegetables
Legumes
Dried apricots
Sesame seeds
Pumpkin seeds
ZINC
Zinc helps the functional integrity of the mammary glands. It is super important for the development and function so maintaining a good zinc status throughout adolescence, pregnancy and lactation may assist breastfeeding.
Zinc glycinate, zinc gluconate and zinc citrate are three well absorbed forms of zinc.
FOODS RICH IN THESE NUTRIENTS
Oysters
Sesame seeds
Sunflower seeds
Pumpkin seeds
Walnuts
Almonds
Lentils
Oats
Wheat germ
Leafy greens
Organic red meat
Mushrooms
Aim for a diet rich in plant foods – vegetables, fruit, legumes, nuts and seeds in addition to clean fish and occasional meat. Not to mention a lifestyle which includes daily movement and exercise, connection with others and self care.
Please see a qualified practitioner should you have any queries about your diet and current situation, having guided help will be the key to getting you back on track and ensuring you are delivering yourself and your baby good nutrition. As mothers I think it is something we are not very good at #askforhelp.
X JO
For more information visit franjoskitchen.com